The little man, he had big plans for this Halloween. His costuming ideas involved not just himself dressing up,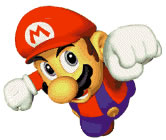 but special coordinated outfits with the husband. You know how the husband reacted to this plan? He's skipping town (happily heading back to Palo Alto on "business" for an entire week). So it's up to me to save Halloween. While the little man will be adorable in his Mario get-up, mommy will be awkwardly attired as…Luigi (hey, at least it's a better option than that freaking precious Princess Peach). But to embarrass myself as thoroughly as possible we're going to have a party the weekend before Halloween. We'll invite some of my friends, some of the little man's friends…and their parents, I imagine, who will be aghast when greeted by a mustachioed momma. And the husband will be conveniently absent from the whole affair. Hmmm.
In other news…for the last couple of year's my desperation food of choice has been Little Cook's TVP Curry Chicken ramen noodles, from Thailand. And it was always messy, going at those long, curly noodles with a spoon. Until lunchtime today, that is. I'd never before thought to try twisting and tangling them up with a fork. That's right, call me savage, but now it's the soup that eats like a meal. And it's genius. This new-fangled method saved me time enough to catch up on my Arabic homework. Oh dear, is this similar to Kottke's recent popcorn hack? Folks don't seem to much care for his useless and/or obvious household hacks. Good thing my readership is so much smaller…and more forgiving.
Bonus: Yeah, I'm a little slow on the uptake in more ways than one…been meaning to mention that Spacewaitress is back in the saddle again. Yay! And in new digs. Yawl should stop by and welcome her back to the neighborhood.
Plus: Found out about the Found Magazine tour stop in Minneapolis, via the increasingly useful upcoming.org. I missed 'em last time they were in Minnesota (up in Duluth), but I won't let that happen again. This time they'll be in Minneapolis, and on a weekend and everything.
And: Note to self: buy some gull-darned sudafed already, you snot-nosed punk, you (I stopped taking the Zyrtec because, combined with the Stupamax, I had joined the legion of the living dead. But now I have a perpetually runny nose. I can't win, dammit).