Yesterday was noteworthy for two reasons.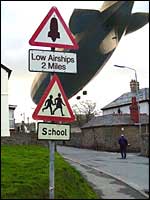 One, we NaNoWrimos reached the halfway point, and I made it right on track with my word count (squeaked by with just 11 surplus words before my eyes threatened to clamp shut on their own). I may not have made it at all, thanks to Jasper Fforde. I'd been on the library's hold list for Something Rotten, the fourth book in the Thursday Next series, for some time. Naturally it would be my turn in November. I started out pacing myself, reading only before bed. But something snapped yesterday and I was compelled to race to the end. The little man is currently hooked on these Reader Rabbit learning games, and takes over my desktop computer every afternoon. When that's the case I am unable to work on client projects (my software and files reside on that machine) so instead I could a) clean b) write or c) read. Lately I've been taking option b, of course. But yesterday I spent four or more precious hours engaged solely in option c. At least I'm finished with that distraction, and I did get us out to the playground for a bit too, which makes me feel less guilty. As for my own story, well, I know what my inner editor would say. She'd think it was the cheesiest, most convoluted pile of rubbish ever written. That said, I'm having a lot of fun with it. And my main character actually scored quite low, which is a good thing, on the Mary Sue litmus test.
On to noteworthy item the second. Yesterday morning, when the little man was at school, I'll bet his ears were burning. I went to my appointment at Children's Hospital and met with a psychologist to talk about him. This time there was no hemming and hawing. Finally here was one single person willing to take accountability, telling me, unequivocably, "I am going to help your child, this is how I'm going to do it, and this is when I'm going to do it." She even apologized, for not being able to schedule his NeuroPsych assessment before January. Considering the runaround we've been given everywhere else, this is much sooner than I could have hoped for. I was floored. I could have kissed her, and felt like doing a little happy dance in her office. It's not that I'm in a hurry to label my child. I just want to figure out what is going on with him so that we can get him the help he needs. And finally, it feels like we're getting closer to that goal…which may include private speech, occupational and physical therapy. And from what I saw of the place yesterday, I think he'll enjoy our visits there.
Bonus: I highly doubt I'll be making it up to Duluth tonight to see Ted Leo, and it doesn't look like he'll be stopping to play in the Twin Cities tomorrow on his way to Chicago. So any Duluthians, take note. Tonight is your chance at Kirby Center's Rafters, University of Minnesota Duluth. Just $3. Go see him. Do it for me.
NaNo word count: 26673/50000