Chuck, this is all for you babe. You owe me a dollar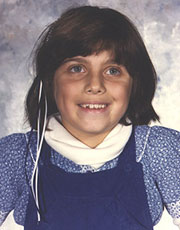 (#7 is the one you're looking for, though it's from 1986 rather than 1985). I can't believe I'm about to post this. I must really be a masochistic exhibitionist. All right, I am about to unleash a partial history of my hairstyles (and glasses and outfits), good, bad and anywhere in between. Sadly my scanner is too crappy to do most of these photos justice, so a lot of them look a bit washed out. And not all incarnations of my hairstyles are represented, as I've never been too interested in pictures of myself. The thing about them, well, for the most part they're taken by other people. Which means I'm not in complete control. I'm far more used to being the subjector rather than the subject, so being at the mercy of others doesn't sit well with me. Control freak? Maybe. But here you can watch me grow up before your eyes, just like a sea monkey. And you can see where it all went so horribly wrong. Click to launch the gallery.
Bonus: Chuck's reaction makes it all worthwhile. But now I want to see proof of his permed mullet from senior year. Lorika, a little help maybe? The husband's reaction has been less favorable (see photo 30, from 2001, and his now obscured head). Sigh.